Jennifer Lopez And Alex Rodriguez Are Couple Goals!
We must say that Alex Rodriguez and Jennifer Lopez are role models of fitness. The challenges they take and post on social media inspires us to keep an eye on our fitness. Recently engaged, Alex and Jennifer are reported to work out together, perhaps supporting each other to reach their body goals. Each gym session brings them closer, and it's no wonder that people have dubbed them as a power couple. Literally! Fans have followed their 10-day challenges closely on social media, and we recently found out that they have a new one!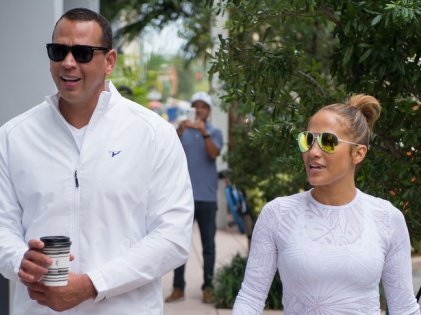 Their last challenge was a 10-day, no carb, no sugar challenge. And now, they turned it up a notch and decided to undergo 10 days of an intense workout. They had recently posted a video where they promised their trainer 10 days of nothing but a grueling workout. In another video, they were seen doing cardio while wearing matching sauna suits. Their joint workout sessions have been a regular thing since they got engaged in March. There are several videos of the couple doing various training exercises, and in one of them, JLo even teaches Alex a few dance steps! That's cute!
Their workout routine comprised of deadlifts, bench presses, weighted step ups, back extensions, cable crossover reverse flys, and many others. The vlogs also documented how JLo completely beat her husband-to-be in their workout sessions. Well, we never had any doubt about that. JLo has always been hotness personified. And all this for what? Well, the big wedding, of course! But we do want to know so much more about their upcoming wedding. One thing is clear though — at this rate, JLo might break the internet once again in her wedding dress!